Raindrop
A downloadable game for Windows
[News]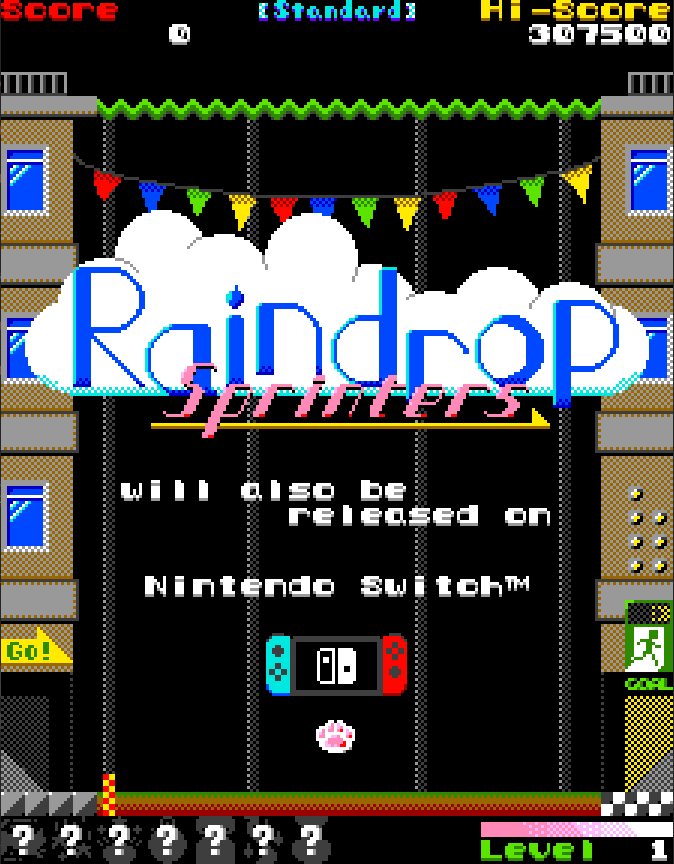 新作『Raindrop Sprinters』を開発中です。PC/Switchにて2023年年初リリース予定です。開発頑張ります。
https://www.4gamer.net/games/667/G066768/20221109048/

RaindropのHTML5をリリースしました、Macユーザも遊べますよ!
You can now play Raindrop in your browser!
https://room-909.itch.io/raindrop-html5
[Description]

雨の日、小学校の渡り廊下でこんな遊びしませんでした?
雨粒を避けながら隣の校舎へ渡ってください。
色んなボーナス点とか隠し要素とかあるんで、頑張って下さい。
まずは目指せ、100万点。
最高レベルの29で5回ゴールすると、エンディングが始まるよ。
Have you tried evading the raindrops like this during your childhood?
Dodge the rain, get stars, cross the finish line!
First, make out the rule, and aim 1,000,000 points!
Try to find the seven hidden achievements and ending!
Reach the goal 5 times in the final level for the Ending!

[Control]
カーソルキー : 左右移動
zキー : 超能力使用(ゲージのある限り)
escキー : ゲームの終了

タイトル画面でqキーを押しっぱなし:ハイスコアのリセット
タイトル画面やリプレイ時に上を押しながらスタート : 土砂降りモード
タイトル画面でaまたはsキー:音量調節

ゲームパッドでも遊べます。

[arrow keys] : move
[z] : Use ESP
[ESC] : Quit game
On the title screen,
press and hold [q] to reset the rankings.
press and hold [up] to cats and dogs mode.
[a] or [s] to change sound volume.

You can also play with a gamepad.

[Changelog]

ver 1.07(2021/02/07)
・屋根を改修して、ちょっとだけ優しく
・手のひらの位置が少し上に
・出戻りすると看板が怒ってボーナス権利を失う
・細かいとこ微調整しまくり

ver 1.06(2021/01/25)
・タイトル画面でマスターボリュームの変更が出来るように

ver 1.05(2021/01/23)
・星の同時取得バグの修正
・フィーバー感が足りなかったので曲を差し替え
・1位専用の曲を追加
・かすりボーナスでズルが出来ないように
・エンディングのジングルを任意再生出来るように
・細かいとこ微調整しまくり

ver 1.00(2021/01/11)
・ゲットした星の数と限界を表示
・雨にかすると音がする
・最高レベルゴールするたび勲章がもらえる
・土砂降りモードの追加
・バッジコンプリートで大騒ぎ
・最高レベル5周でミニエンディング
・細かいとこ微調整しまくり

ver 0.97(2021/01/09)
・zキーで超能力が使えるように
・色々やったらバッジが貰える
・バッジを貰うとゲームが有利に
・ノンストップボーナス実装
・ジングルを大量に追加
・ハイスコアを自動保存
・タイトル、ハイスコアデモ、ネームエントリー実装
ver 0.8 (2020/12/04)
・ゲームパッド対応
・タイトル画面で画面サイズ変更が出来るように
(ただしフルスクリーンだと他アプリの通知で比率がバグる)
・Escキーでいつでも終了
・画面構成の変更
・ジングルを大量に追加
・ボーナス表示をわかりやすく
・金の雫を星に変更してバウンドするように
Ver 0.51 (2020/12/01)
・ゴールのジングルを追加
Ver 0.5 (2020/11/30)
・とりあえず公開
Comments
Log in with itch.io to leave a comment.
Fun game! I was able to enjoy the HTML5 version too :)
I heard about your game from Terry's Free Game of the Week! It's fantastic, and very well designed!
Thank you very much! I'm really glad you can see what I'm thinking through the game! I never dreamed that people would play my game this much!
This was both challenging and fun! I really like it!
The game is very fun!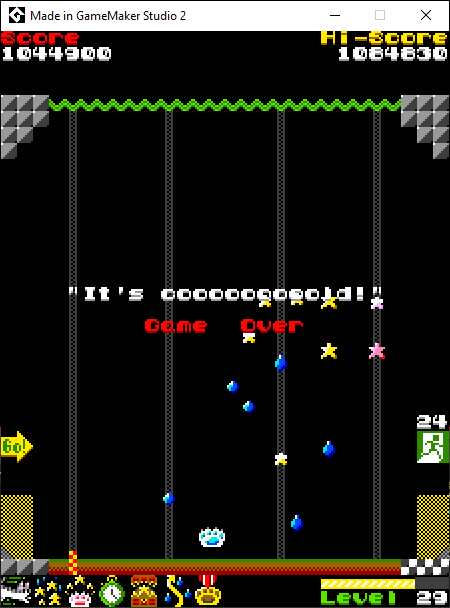 Thank you for playing!
Wow, you got all the badges and a million points!
I'm glad you enjoyed it, I'm really happy!
I read your blog, thank you so much for introducing my game!
I'll make sure something good happens when the cat completes the badge!